Internet Marketing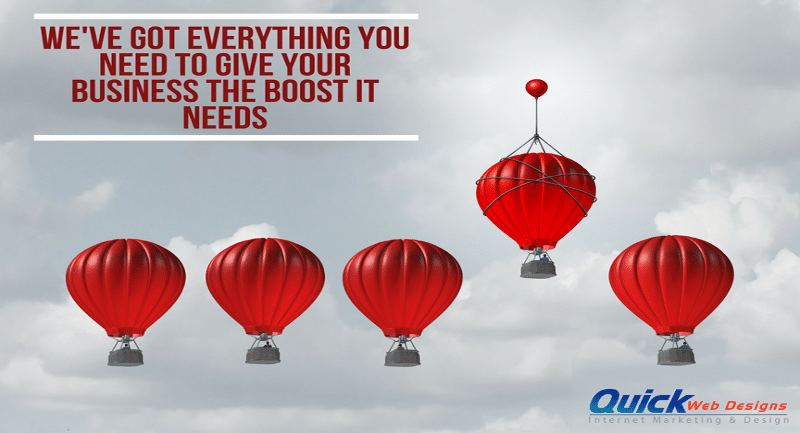 Internet Marketing Service
Quick Web Designs specializes in Internet Marketing and Search Engine Optimization. We offer complete Search Engine Ranking Solutions for any size business.
Why use Quick Web Designs?
Quick Web Designs uses a time tested five phase SEO marketing methodology.
19 Years of Experience: Quick Web Designs has been Marketing websites since 1998.
Quick Web Designs has heavily invested in new technology. This technology helps provide our clients with better project management and collaboration.
Our proprietary Client Dashboard allows access to the most important data about website marketing projects 24/7.
We keep ourselves updated with the latest digital marketing trends so that you don't have to. Employ an effective digital marketing strategy by working with us.
With more strategies being formed today, the strategies we implement are proven effective and cohesive.
Local SEO Marketing
If your business has a physical location and you want to attract more visits in the area, running a local marketing campaign is necessary. This puts your business on more maps and mobile devices in the area of your customers.
Social Media Marketing
A social media presence is necessary for all site's that support, nurture and communicate with the brand's community. We recommend you run a social media campaign to ensure the website gets all of the visibility that it can online.
Organic SEO Marketing
Organic SEO is location neutral. It's ideal for websites that generate revenue exclusively online or are just looking to generate awareness through a wide audience. If you're running a national campaign, or an e-commerce campaign, this is the perfect methodology for you.
Start your Internet Marketing project today!
Click above to request a proposal or call us today: 919-285-1592