Comprehensive Website Audit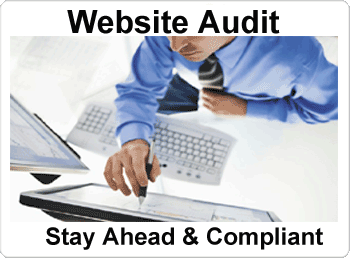 As experienced SEO professionals, we recommend every website have a comprehensive website audit once a year. Our comprehensive website audit can help eliminate issues which might have developed over time and eliminate unnatural back links.
Through the life cycle of every website there are changes, such as updating, adding and deleting pages. With so many changes, a website audit becomes necessary to ensure continued optimal performance from your website.
In addition, search engines frequently change and update their algorithms and guidelines. With our website audit, you can be ensured that your website will perform despite the updates and it will comply with the latest guidelines. Whenever there are major search engine algorithm changes, a website audit is a must have to ensure your website stays compliant.
A Website Audit is recommended yearly website maintenance.

Our Comprehensive Website Audit provides in-depth SEO analysis of all On-Page and website elements to unearth all SEO opportunities that the business can use to beat competition and achieve and retain top search rankings. This highly collaborative service enables clients to quickly learn and understand the major factors important to ranking a website as well as other issues that affect ranking and site visibility.
In 30 days, the client will know all barriers hindering the page from ranking, all SEO elements that they can exploit and take advantage of, and other site discoveries that would help the site to ensure site competitiveness in search engine visibility. The end-result is a SEO Analytics report that contains all the site recommendations for up to 50 keywords and analysis of the site up to 20 pages. This report in the hands of a capable SEO, will be the best start point for any successful and effective SEO Campaign.
In Depth On-Page analysis from tenured SEOs.
Competitive analysis against competitors holding the top search positions for your desired keywords.
Google Search Console setup and integration.
Google Analytics setup and integration.
Structural analysis of your site in terms of target page click-depth and semantic content support.
Digital footprint overview with actionable recommendations.
Our Comprehensive Website Audit covers everything
Opt for our website audit today to make sure your website complies with all search engine algorithm updates. Stay miles ahead of your competition by implementing necessary updates based on algorithm changes.